Minalogic sharpens focus on Smart City technologies
07/11/2016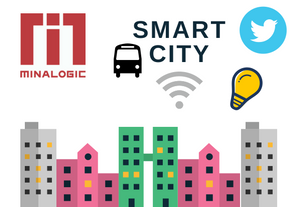 Smart Cities: where ICTs, urban services, and the environment come together
Our cities are undergoing some profound changes. And urban populations are growing worldwide. To conserve resources and ensure the quality of life urban dwellers demand, cities will need shift to more responsible, efficient systems.
The Smart City is a new vision for the cities of tomorrow, one where technological innovation will drive the emergence of new uses for technology and powerful new services-all while making more efficient use of our planet's resources.
Powerful new urban services
Tomorrow's cities will offer powerful new urban services for transportation, buildings, energy, natural resource and waste management, and more.…
The Smart City market is booming. Strong growth is bringing with it opportunities for existing businesses to develop new products and services and for new businesses to launch! The market is ripe for new technological innovations that will help cities support tomorrow's powerful urban services and facilitate the transformation to the Smart City model.
The Auvergne Rhône-Alpes region is fully engaged in the Smart City movement
Cities across the region are poised to make the shift, building and testing their own Smart City models.
The Greater Lyon area (Grand Lyon, Smart city) has rolled out an ambitious new urban innovation policy, "Lyon Métropole intelligente".
In the Isère district, coordinated local initiatives are underway to make the area a "living lab" for tomorrow's Smart Cities.
Facilitating collaborative projects to develop Smart City solutions
Minalogic is active in several working groups currently being set up to drive the transition to Smart Cities and promote the development of innovative Smart City solutions :
A working group with the Greater Grenoble Intermunicipal Authority has been set up to prepare a possible H2020 project bid;

Another working group with energy cluster Tenerrdis and the Grenoble-Isère Economic Development Agency (AEPI) resulted in a talk on Smart Cities by Tenerrdis' Régis Largillier at the TUBA Xperts conference.
Isère pavilion at the upcoming Smart City Expo World Congress
Minalogic and Tenerrdis will be attending the Smart City Expo World Congress along with a large delegation of stakeholders from Grenoble as part of the Greater Grenoble Intermunicipal Authority-Grenoble-Isère Economic Development Agency Smart City strategy. A total of eight companies will exhibit in the Isère pavilion, which will showcase the region's know-how in Smart City solutions at a major global Smart City event. The pavilion will feature demos from members of both clusters.
Innovative R&D projects and products supported by Minalogic
Minalogic-certified collaborative R&D projects :
Innovative products born from Minalogic R&D projects :
Discover Minalogic member know-how in this field
The Minalogic ecosystem counts around 60 member companies with know-how applicable to Smart City solutions in six main areas:
energy, mobility, buildings, data centers, integration, and services.
| | |
| --- | --- |
| ENERGY | |
| MOBILITY | |
| BUILDINGS | |
| DATA CENTER | |
| SERVICE | |
| INTEGRATION | |
Is your company a Minalogic member ? Do you have know-how useful in smart city applications but do not appear in the table?
Contact Nathalie GIBERT (nathalie.gibert_at_minalogic.com) to have your company's name added to the listing.
Don't forget to mention which category your know-how applies to.