Minalogic to be well-represented at IoT Solutions World Congress
02/10/2018


Minalogic and cluster SCS will be running a joint booth
for twelve of their members
at IoT World Congress 2018 in Barcelona
Minalogic will be well-represented at IoT Solutions World Congress, to be held in Barcelona from October 16 to 18. The cluster will co-organize a joint booth for seven Minalogic members and five members of Minalogic partner cluster SCS.
IoT Solutions World Congress, now in its third year, has grown to become the premier international IIoT (Industrial Internet of Things) trade event and the place to be each year for stakeholders from industry looking for potential new partners.
More than 300 exhibitors and 14,000 visitors are expected this year, and the program will provide unique insights into the latest innovations in IoT for industry. Visitors will take home the latest developments and strategies to make IoT a winning choice for their industrial companies.
More informations about IOT Solutions World Congress
Members exhibiting at the Minalogic-SCS booth (booth e519)
Discover the twelve members of European clusters Minalogic and SCS that will exhibit at the partners' joint booth, made possible in part by funding from their respective regional governments (Auvergne-Rhône-Alpes through Minalogic's International Development Plan, and SUD Provence Alpes Côte d'Azur).
The ideal event to promote the region's IoT ecosystem
Come and network with representatives of Minalogic and the cluster's member companies at a cocktail reception on October 17 from 12:30 p.m. to 2 p.m. at the exhibit booth!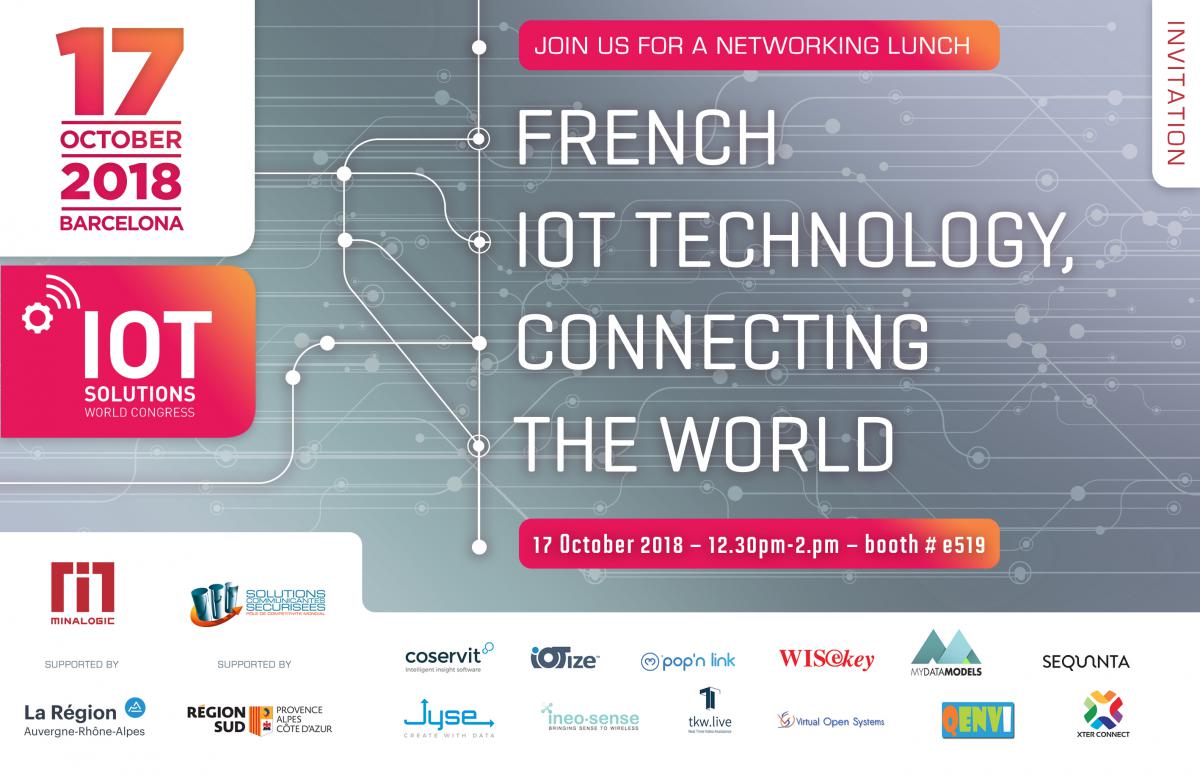 We look forward to seeing you on Wednesday, October 17 from 12:30 p.m. to 2 p.m.
at booth e519!
Your Minalogic contact :
Constance Motte| Director, Europe & International Development
constance.motte@minalogic.com | T : +33 (0)4 38 78 52 72 | M : +33 (0)6 37 41 65 65