Electronica: discover the Minalogic/Business France delegation
26/10/2022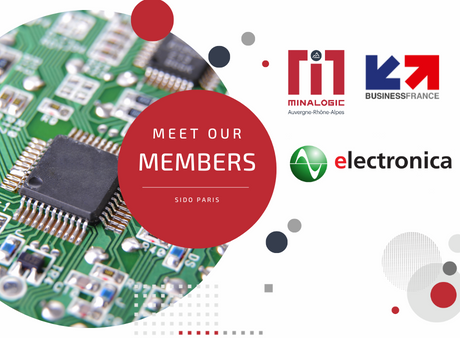 Electronica is the world's leading trade show for the electronics industry. It will be held in Munich from November 15 to 18.
Electronica in a few figures :
📍 3 100 exhibitors
📍 50+ countries
📍 80 000 visitors in 2018
📍 182,000 m² of exhibition space
Electronica covers the entire value chain of the electronics industry: technologies, products and solutions, but also thematic forums and high-level conferences. The ideal place to hunt out innovations and new trends.
In partnership with Business France, Minalogic will be present with 8 members at the French Pavilion.
Meet us in hall B1 with Invest In Grenoble Alpes and our partners:
AB Chimie
ABchimie creates, manufactures and distributes for more than ten years, professional solutions for protection and cleaning electronic circuits. With an important range of products consisting of resins, conformal coatings, silicones, maintenance and cleaning solutions, ABchimie is able to answer any specific need.
Advantelec

Our R & D engineer masters the techniques of hardware and software design (routing, prototyping, embedded language) and validation (qualification & standards) of electronic solutions (power electronics, lithium battery management system, IOT, etc.).

BEFC

BeFC produces biofuel cells as a sustainable energy solution dedicated to low-power electronics. In one sentence, we create electricity with papers & enzymes!

There is a growing trend towards portable and wearable electronics for IoT and Industry 4.0 applications.

BNB market

BNB markets supports high-tech, electronics and semiconductor companies with outsourced B2B marketing services. We are proposing market research, benchmarking (on a technology or more product and markets oriented), marketing automation, content marketing, market investigation and we also proposing relational marketing, such as investigation on trade shows or through targeted conferences.

Cortus

We also have developed a complete SoC for IoT. This includes a medium range RF transceiver along with a powerful micro-controller, AES in hardware, as well as a large embedded flash memory. Everything needed for a secure, low cost, low power (up to 10 years battery life from a button cell) solution suitable for a wide range of IoT applications in smart buildings including ESL in supermarkets and in car parks.

Dolphin Design

It employs more than 180 people, including 140 engineers who design the key functions of an integrated circuit - called "IP blocks or platforms" - or even the complete integrated circuit - called ASIC or System-on-Chip (SoC). Our company has unique know-how in optimizing energy efficiency, which earned us the honor of being one of the 1000 companies worldwide to receive the Solar Impulse label.

Dracula Technologies

Dracula technologies uses the source of renwable energy and integrates electronics in many mobile products of everyday life . Their aim is to put energy and light in new products without altering their primary function, making this devices energetically autonomous.

Dracula technologies has developped printed flexible solar cells that perfectly with the design of each product.

Ponant Technologies

PONANT Technologies is an engineering company specialized in development of embedder software and industrial application. We provide "turnkey" solution and support in our service center to implements complementary solutions of the core business of our clients.

 
You will also have the opportunity to meet other members exhibiting on their own initiative:
Asygn

Analog & Radio Frequency Circuit Design for Sensors, Imaging and Telecom applications

Crocus Technology

Crocus Technology develops and supplies magnetic sensors and embedded memory solutions designed with Magnetic Logic Unit™ (MLU) technology. MLU's distinguishing properties for enabling speed and endurance afford new levels of robustness to Crocus' embedded memory solutions aimed at IoT and security applications.

Easii IC

EASii IC is a Consulting Company and a Design Center specialized in Microelectronics, Electronics, Embedded and Real Time Software and an ASIC design house (Digital, Analog et RF).

Hummink

Hummink enables to assemble the nano-electronics objects of tomorrow thanks to a breakthrough additive manufacturing technology which can deposit any material, on any surface, with a unique freedom of design.

IC'Alps

ASlC/SoC partner with a full turnkey approach covering feasibility, design and prototyping for digital, analog and mixed-signal integrated circuits targeting performances enhancement as well as specific requirements.

I-ten

I-TEN ultimate goal is to solve critical market bottlenecks for a variety of sectors which rely heavily on energy microstorage devices to support core functions in most technological innovations.

The company provides expert testing, product engineering solutions, and supply chain services in both normal and secured environments (EAL5+) to IDM and fabless companies, helping to improve the speed & predictability of new product releases.

Serma Technologies

Specialised in electronics expertise and consulting, SERMA TECHNOLOGIES offers services in Electronic Technologies Management > ETM.

Teledyne e2v

e2v's objective is to be a global leader in the design and supply of specialised components and sub-systems that enable the world's leading systems companies to deliver innovative solutions for medical and science, aerospace and defence,




and commercial and industrial markets.

Tronics Microsystems

With manufacturing operations in the U.S. and Europe, and representation in China and Japan, Tronics is a flexible and global private company that develops and reliably manufactures customer specific MEMS components and microsystems for clients around the globe.

UMS

UMS has a comprehensive offer based on the supply of either ASIC or catalogue products, in the main based on the Company's internal III-V technologies and through the provision of a comprehensive foundry service, allowing customers to directly create their own product solutions.
It's also well worth heading over to visit SEMICON Europa.
SEMICON Europa offers programs that address the critical issues and challenges facing the microelectronics industries and provides opportunities for participants to discuss and promote their innovations.
This will be an opportunity to meet:
| | |
| --- | --- |
| Eumetrys | EUMETRYS, EUropeanMETRologysYStem company, is a service company dedicated to support automatic metrology systems for semiconductor, compound semiconductor, MEMs and LEDs factories in Europe. |
| Insidix | Insidix helps you in your product development. By means of imaging technologies, you could characterize the design of your product, its behavior during assembly process or aging test. This way you could understand which part is more fragile and improve your process to guaranty the best quality and proper functioning of your products. |
| SetCorporation | SET (Smart Equipment Technology) is specialized in high accuracy flip-chip bonders for chip-to-chip and chip-to-wafer. |
| X-FAB | X-FAB is a Silicon Foundry, leader in Europe in advanced analog and mixed-signal integrated circuits for the microelectronic industry. X-FAB digitalizes the analogic world by offering high quality standards, manufacturing excellence and innovative solutions in the automotive, industrial, medical and other markets. |
👉 Events not to be missed
16/11: French evening at the French pavilion
17/11: European cocktail from 4 to 6 p.m. Between Silicon Saxony and the Netherlands Stands: C1219 and C1329

Want to know more? Contact: